BikeMO 2012 featured in Columbia Missourian
Reporters from the Columbia Missourian interviewed and photographed many BikeMO 2012 riders at the ride start on August 25th.  Since the announcement about Lance Armstrong's decision to stop fighting doping charges had just been announced, reporters focused on that angle while interviewing BikeMO riders Saturday for the story they published:
At 6 a.m. Saturday as Brie Larson was preparing to ride in the eighth annual BikeMO 2012 event, she said she was disappointed about the recent news that cyclist Lance Armstrong decided not to defend himself in the  doping case.

"He's fought for so long, and now he's giving up," she said. "It's kind of a no-win situation."

For Larson and other cyclists at BikeMO 2012 — an event where 132 riders biked through Rocheport, Boonville, Arrow Rock and the Katy Trail on Saturday — Armstrong's decision to end his two-year battle against the U.S. Anti-Doping Agency over claims that he used performance enhancing drugs was a disheartening turn of events.

BikeMO featured in Columbia Missourian
The Columbia Missourian featured BikeMO in the October 17th issue, with several photographs:
Different folks and different spokes showed up at the 6th annual BikeMO Fall Foliage Extravaganza on Saturday.

Held by the Missouri Bicycle and Pedestrian Federation as a fundraiser for their advocacy work, the ride included 17-, 40-, 62- and 100-mile routes.

About 175 riders participated, which made this year's ride one of the event's bigger years, according to Fred Schmidt, treasurer of the federation.

Schmidt, a Columbia resident since 1959, said there are usually roughly 100-200 riders each year. He suspected the beautiful weather had something to do with the larger number of participants this year.
BikeMO riders featured on the front page of the Jefferson City Tribune
The front page of the Jefferson City Tribune December 21st, 2009, featured a photo of BikeMo 2009 participants rolling out from the start line. (The article was about a new trail connection between the Katy Trail and Holt's Summit.)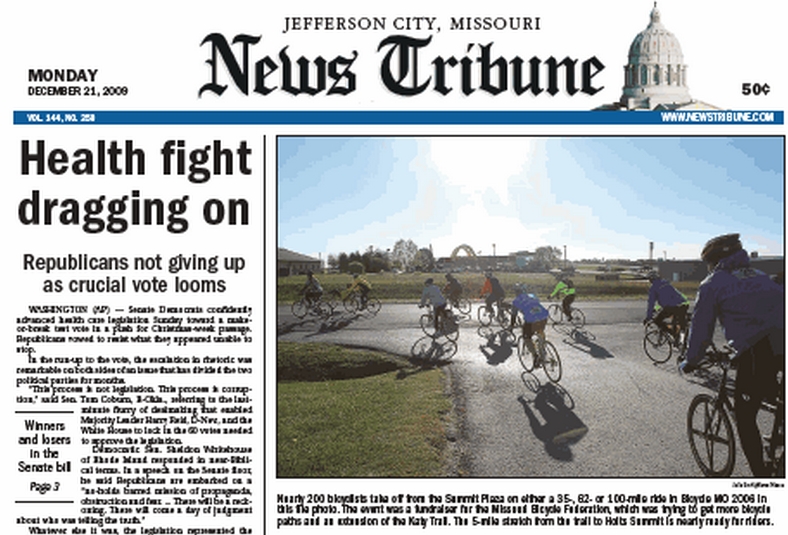 BikeMO is organized by, run by, and benefits the Missouri Bicycle Federation.