Get ready for BikeMO 2023. Whether you're a seasoned cyclist or a casual rider, this event promises an unforgettable experience. Mark your calendars for August 26th and gear up for an incredible day on the roads of Mid-Missouri.
Registration Details
Online Pre-Registration: Take advantage of the early bird discount by registering online before August 24th, 2023, at midnight. The registration fee for individual riders during this period is $55. It's a convenient and cost-effective way to secure your spot. Take advantage of this great deal!
Packet Pick-Up Registration: For those unable to register online, you can still secure your spot at the packet pick-up on Friday, August 25th, from 5:00 pm to 7:30 pm at the Holiday Inn Executive Center in the Atrium Lobby. The registration fee remains $55 for individuals during this time.
Ride-Day Registration: If you missed the online pre-registration or packet pick-up, there is still a chance to join the fun. Ride-day registration opens bright and early at 7:00 am on August 26th. The registration fee on the day of the event is $65 per person. Remember, ride-day registration closes promptly at 7:45 am, so make sure to arrive in time to secure your spot. The ride starts at 8:00 am, so be ready to pedal your way to adventure!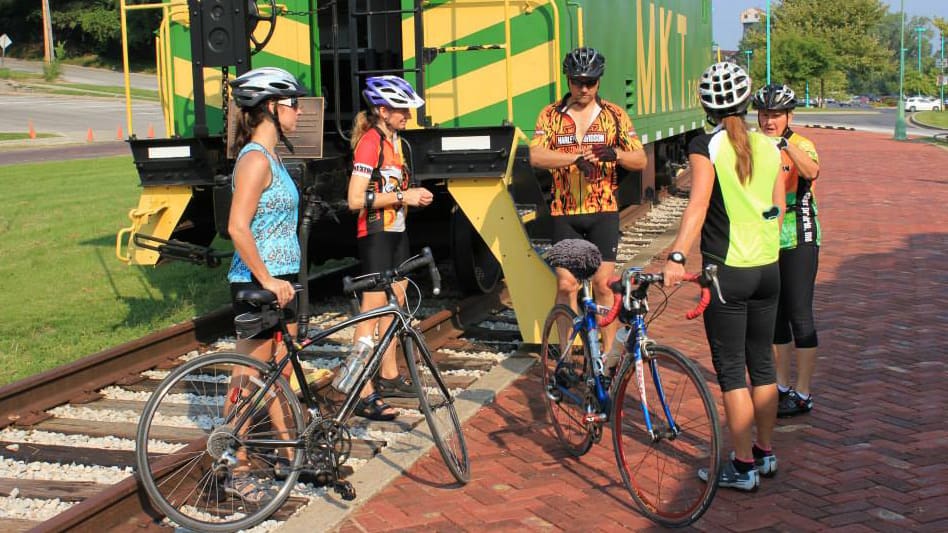 2024 MO Bike Fed Membership:
Along with your BikeMO 2023 registration, you will receive a complimentary individual membership to the Missouri Bicycle and Pedestrian Federation for 2024. This membership grants access to a vibrant community of fellow cycling enthusiasts, valuable resources, and advocacy efforts to promote safe and enjoyable biking throughout Missouri.
Lunch and Drink Discount Option:
Recharge and refuel during the event with an exclusive lunch and drink discount package from Les Bourgeois Winery. For just $20, riders can enjoy a delectable meal at the A-frame and exciting discounts on wine and beer purchases. Receive $4 off per bottle of wine and $1 off per glass of wine or beer. As a bonus, you'll also receive a free pint or wine glass with your lunch purchase. Indulge in lunch while basking in the picturesque scenery of the Missouri River Valley from the bluff top at Les Bourgeois Winery.
Choose from a variety of delicious lunch options, including:
Chicken Sandwich: Tender chicken breast on a roll with marinated pasta salad and a cookie.
Smoked Turkey Sandwich: Savory smoked turkey breast on a croissant with cheddar cheese, served with marinated pasta salad and a cookie.
Vegetarian Club Sandwich: A delightful combination of cheese, tomato, lettuce, sprouts, and onion, served with marinated pasta salad and a cookie.
Honey Ham Sandwich: Succulent honey ham on a croissant with Swiss cheese, complemented by marinated pasta salad and a cookie.
To take advantage of this fantastic lunch offer, purchase the lunch/after-party package through the pre-registration link before midnight on August 23rd, 2023. You can add this package during the online registration or as a stand-alone option.
BikeMO Pint and Wine Glass:
Commemorate your participation in BikeMO 2023 with a limited edition pint and wine glass. These unique glasses are available for purchase for $5 each. Mix and match as you like, and take home a memorable keepsake from the event. If you plan to indulge in beverages at the after-party, purchasing a glass entitles you to a $1 discount on beer and wine pours. Take advantage of this offer to sip your favorite beverages in style!
Order a complete set of glasses to save even more. The prices for sets are as follows:
2 glasses for $9
4 glasses for $17
5 glasses for $20
BikeMO T-Shirt
Show off your love for cycling and BikeMO with a stylish event t-shirt. Pre-orders for t-shirts must be placed before August 1st at midnight to ensure availability. Don't miss the opportunity to sport this fantastic apparel and let everyone know you were part of the BikeMO 2023 community.
Packet Pick-Up Details
Friday packet pick-up is scheduled for August 25th, 2023, from 5:00 pm to 7:30 pm. Visit the Holiday Inn Executive Center in the Atrium Lobby to collect your event packet during this time. This is the perfect opportunity to gather all the essentials, information about the event, and any additional merchandise you've ordered. Be sure to mark this important date on your calendar!
Get Ready for BikeMO 2023
With BikeMO 2023 just around the corner, now is the time to plan. Register online before August 24th to secure the best rates, or join us at the packet pick-up on August 25th for the same registration fee. Ride-day registration will also be available but at a slightly higher cost. Remember, the ride starts promptly at 8:00 am, so arrive early to prepare for an epic adventure.
Don't forget to explore the exciting lunch and drink discount option from Les Bourgeois Winery, grab a limited edition BikeMO pint or wine glass, and pre-order your event t-shirt to complete the experience. We can't wait to see you at BikeMO 2023 for a day of unforgettable cycling and camaraderie!